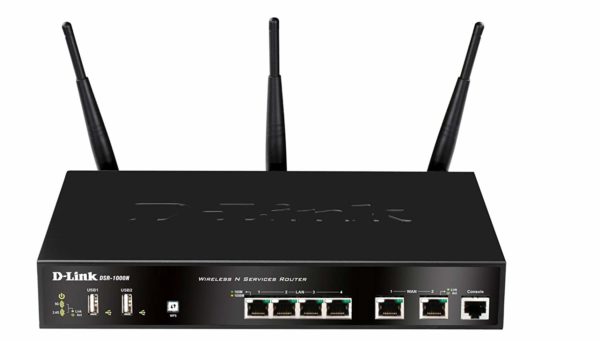 D-LINK – DSR-1000N
₦100,070.00
Description
Reviews (0)
Specification
Download
Description
Wireless N Dual Band Unified Service Router DSR‑1000N
---
Only logged in customers who have purchased this product may leave a review.
Features
High-Performance VPN
Protocols
VPN Tunnels
DES, 3DES, AES
Enhanced Network Services
IPv6
IEEE 802.1q VLAN
Multiple SSIDs
Port Monitoring/Bandwidth Control
srTCM, trTCM, & policing
Wireless Access and Security
IEEE 802.11 a/b/g/n (2.4 GHz, 5 GHz)
IEEE 802.1x RADIUS Authentication with EAP-TLS, EAP-TLLS, EAP-PEAP
WPS, WEP, WPA-PSK, WPA-EAP, WPA2-PSK, WPA2-EAP
Fault Tolerance
WAN Traffic Failover & Outbound Load Balancing
Technical Specifications
General
Ethernet Interface
2 x 10/100/1000 Mbps WAN Ports
4 x 10/100/1000 Mbps LAN Ports
Wireless Interface
802.11a/b/g/n (Selectable Dual Band)
3 Detachable 2 dBi Omni-Directional Antennas
USB 2.0 Ports
Console Port
Performance1
Firewall Throughput2
VPN Throughput (3DES)3
Concurrent Sessions
New Sessions (per second)
Firewall Policies
Internet Connection Type
Static/ Dynamic IP
PPPoE/ L2TP/ PPTP
Multiple PPPoE
Firewall System
Static Route
Dynamic Route
Dynamic DNS
Inter-VLAN Route
NAT, PAT
Web Content Filtering
Intrusion Prevention System (IPS)

Signature Package Included in Firmware
Networking
DHCP Server/ Client
DHCP Relay
IEEE802.1q VLAN
VLAN (Port-Based)
IP Multicast
IPv6
Route Failover
Outbound Load Balancing
3G Redundancy
Wireless
Multiple Service Set Identifier (SSID)
Service Set Identifier (SSID) to VLAN Mapping
Standards
Wireless Security

Wired Equivalent Privacy (WEP)
Wi-Fi Protect Setup (WPS)
Wi-Fi Protected Access – Personal (WPA-PSK)
Wi-Fi Protected Access – Enterprise (WPA-EAP)
Wi-Fi Protected Access version 2 – Personal (WPA-PSK)
Wi-Fi Protected Access version 2 – Enterprise (WPA-EAP)
Virtual Private Network (VPN)
VPN Tunnels
IPSec Tunnels
SSL VPN Tunnels
PPTP/L2TP Clients
GRE4
Encryption Methods

DES, 3DES, AES, Twofish, Blowfish, CAST-128, NULL

SSL Encryption Methods
IPSec/PPTP/L2TP Server
IPSec NAT Traversal
Dead Peer Detection
IP Encapsulating Security Payload (ESP)
IP Authentication Header (AH)
VPN Tunnel Keep Alive
Hub and Spoke
Bandwidth Management 
Maximum Bandwidth Control
Priority Bandwidth Control
System Management
Web-based User Interface
Command Line
SNMP v1, v2c, v3
Physical & Environment
Power Supply
Internal Power Supply Unit
DC 12 V/2.5 A
Max. Power Consumption
Dimensions (L x W x H)
180 x 280 x 44 mm (7.09 x 11.02 x 1.73 inches)
Operation Temperature
0 to 40 °C (32 to 104 °F)
Storage Temperature
-20 to 70 °C (-4 to 158 °F)
Operation Humidity
EMI/EMC
FCC Class B, CE Class B, C-Tick, IC, VCCI
Safety
3rd Party Certification
IPv6 Ready, Wi-Fi, ICSA-Certified Firewall, VPNC AES Interop, VPNC Basic Interop
MTBF
1 Firewall throughput is measured using UDP traffic with a 1,518 bytes packet size, adhering to RFC2544.
2 Actual performance may vary depending on network conditions and activated services.
3 VPN throughput is measured using UDP traffic with the packet size 1420 bytes and encryption method 3DES plus SHA-1, adhering to PFC2544.
4 Available through future firmware upgrade.