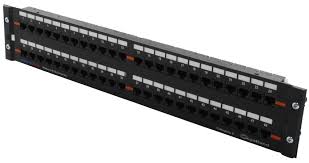 Excel 50-Port Voice Patch Panel
₦22,000.00
Excel 50-Port Voice Patch Panel
Reviews (0)
Specification
Download
---
Only logged in customers who have purchased this product may leave a review.
Excel (100-464) 3 Pair VoIce RJ45 Patch Panel 1U - 50 Port (Black)
The Excel voice panel is a 1u panel which provides a cost effective method of terminating and presenting multipair voice cables. Each panel has 25 or 50 RJ45 ports per 1u and an integral rear cable management tray. Each port is numbered and each can be wired with up to 3 pairs.
The Excel high density RJ45 patch panel is designed specifically for use with high pair count voice multipair cables, such as the Category 3 or CW1308 products found within the Excel cable range. A standard 1U panel frame is populated with up to 60 ports – 50 and 25 port options are also available. Each style of panel has an integral rear cable management tray positioned at a right angle to the panel front. As well  as providing a stress free area in which to dress the multiple pairs, the tray also houses the LSA compatible termination blocks.
The 25 and 50 Port Patch Panels support 3 pair connectivity per port and the 60 Port Patch Panels supports 2 pair connectivity. Although two pair circuits are most common, allowing for 100 pair  links to be terminated across a standard 50 port  1U panel.
Key Features:
High port density design
LSA compatible IDC blocks
Built in rear cable management tray
Up to 60 x RJ45 ports in 1U of rack space