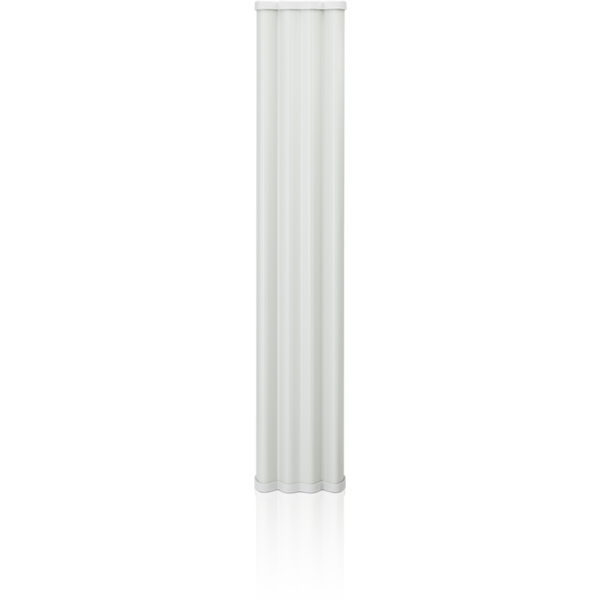 AM5G-20-90
₦106,348.55
AM-5G20-90
Ubiquiti 90 Degree 5GHz MIMO 20dBi w/cables
Description
Reviews (0)
Download
Description
specification
Part Number:AM-5G20-90
Sector Coverage
The airMAX Sector Antenna is a Carrier Class 2×2 Dual Polarity MIMO Sector Antenna that was designed to seamlessly integrate with RocketM radios (RocketM sold separately). Pair the RocketM's radio with the airMAX Sector Antenna's reach to create a powerful basestation. This versatile combination gives network architects unparalleled flexibility and convenience.
Utilize airMAX Technology
Unlike standard Wi-Fi protocol, Ubiquiti's Time Division Multiple Access (TDMA) airMAX protocol allows each client to send and receive data using pre-designated time slots scheduled by an intelligent AP controller.
This "time slot" method eliminates hidden node collisions and maximizes airtime efficiency. It provides many magnitudes of performance improvements in latency, throughput, and scalability compared to all other outdoor systems in its class.
Intelligent QoS
Priority is given to voice/video for seamless streaming.
Scalability
High capacity and scalability.
Long Distance
Capable of high-speed, carrier-class links
Performance
Frequency band  
5.15 – 5.85
Horizontal beam width
91  °
Vertical beam width
85  °
Horizontal beam width (5 GHz)
4  °
Vertical beam width (5 GHz)
2  °
Antenna gain level (max)  
20.3  dBi
Features
Antenna type  
Sector antenna
Polarization
Dual polarization
Voltage Standing Wave Ratio (VSWR)
1.5:1
Mounting
Wall
Mounting  
Wall
Purpose  
Outdoor
Product colour  
White
Certification
EN 302 326 DN2
Weight & dimensions
Width  
700
Depth  
135
Height  
70
Weight  
5.9
Packaging content
Quantity  
1
---
Only logged in customers who have purchased this product may leave a review.