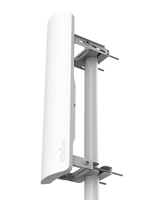 MIKROTIK-RB921GS-5HPacD-19S
₦75,950.00
The mANTBox is based on our new mANT sector antennas, but also has a wireless router built right in. Powered by the RB921 device, the mANTBox comes ready to use with everything included. The device uses a high speed 720MHz CPU and has a built in 802.11 ac/a/n wireless device with up to 31dBm output power.
mANTBox 19s comes with 19dBi 120 degree sector antenna.
RB921GS-5HPacD-19S-US (USA) is factory locked for 5.17 – 5.25 GHz and 5.725 – 5.835 GHz frequencies. This lock can not be removed.
Reviews (0)
Specification
Download
---
Only logged in customers who have purchased this product may leave a review.
Product specifications

Product code
RB921GS-5HPacD-19S
CPU nominal frequency
720 MHz
CPU core count
1
Size of RAM
128 MB
10/100/1000 Ethernet ports
1
Wireless standards
802.11a/n/ac
Wireless chip model
QCA9882
Supported input voltage
8 V - 30 V
PoE in
Yes
Voltage Monitor
Yes
PCB temperature monitor
Yes
Dimensions
152 x 598 x 78 mm
Operating System
RouterOS
Tested ambient temperature
-30 + 70 C
License level
4
Antenna gain
19
Max Power consumption
13W
SFP ports
1
Number of chains
2
Storage type
NAND
Storage size
128 MB

Wireless specifications

5 GHz
Transmit power (dBm)
Receive Sensitivity
Transmit power (mW)
6MBit/s
31
-96
1259
54MBit/s
27
-81
501
MCS0
30
-96
1000
MCS7
27
-77
501
MCS9
22
-72
158